"Underground" Street Racing Bay Area, N. California
This highly controversial section will be dedicated to the culture of the illegal street race scene in the Bay Area. The CIPHeR. Online website does not necessarily support or condone these events, but.. they happen, so we're gonna cover it. I first heard about the underground racing scene here in the Bay Area in mid-1994, but didn't actually experience what it was like until early 1995. Back then, people came out in their Civics rockin RS Akimoto, DC headers and Trust exhaust, and were considered quick. That was a long time ago. Since then, the street racing scene has evolved greatly and has become increasingly popular (and dangerous) among the race crews in Northern California. What started out as a small group of cars racing against each other on Friday nights has evolved into more of a cultural experience. The street racers developed their own "communication" methods by blinking their hazard lights, and even started on a systematic order in which each "track" is visited, including standard routes that each car follows when entering and exiting a track.
When we first started going to the street races on Friday and Saturday nights, everyone would meet up at 12 midnight at Lucky's on Berryessa and Capitol. Some peeps would kick it at Berryessa Denny's or Taco Bell across the street to wait for the line of cars to head out. We'd usually see the same cars and same crews representing...WickeD, Slipstream, Speedtech, Redline, RedZone, 0260, Speed Velocity, Racing Evolution, and Team Genesis were just a FEW of the crews recognized each weekend. Although most racers drove slammed Civics and Integras, a few chose to be different and ran Mitsubishi turbo Starions, Datsun 510s, BMWs, RWD GTS Corollas, Supras, Mr2s and Mitsubishi Eclipses, which are almost as popular (though not as fast) as Integs. It became more and more popular to squeeze NOS on the street when running another car. Nowadays, it is very common to see Integras purging (*psst*psst*) as puffs of Nitrous oxide get released into the night air. Turbo kits and front mount intercoolers are starting to become "ordinary everyday" upgrades, as if they come stock on cars! It is not at all uncommon to see a shiny new Integ, Civic or Eclipse zoom by, leaving a subtle *psshhh* behind, as the blow off valve releases pressure after each shift.. As time went by, the imports became faster and faster. People were now starting to take their daily driven Civics and race the puti Mustang owners that used to laugh at us.. and BEAT them!!! 12 and 13 Sec 1/4 mile times are not uncommon at the street races nowadays. More and more girls were showing up to the tracks too, making all the guys wanna show off their rides, ditching their ugly 13" Rota wheels for tight 17" 3 piece SSR wheels and polished out exhausts!
As the presence of street racing became more widely known to the local crews, so did it become known to our beloved police department. The lines of cars became longer and longer.. and what once used to be a 30-car line GREW to over 100 cars in a single line, with multiple lines of racers meeting up in different areas, using cellphones on the freeways to tell each other which tracks to meet at next. In order to not be pressured too much by any one department, the racers would commute from track to track, city to city.. from San Jose to Fremont to Santa Clara, back to San Jose, and then to Milpitas and back to San Jose.. the po-pos (police) started sending out ghetto birds (helicopters), using spotlights to track the lines down as they drove the freeways and moved to different police areas of precedence. They started resorting to blockades, giving every single driver caught a ticket and suspending licenses (and impounding cars) of people who were actually caught in the act of racing.
Even though the street races are constantly littered with police cars, the excitement of street racing and the thrill of running from the cops has actually motivated some people to drive from areas as far as Sacramento and Los Angeles to check out the cars and race em...
More pics to come...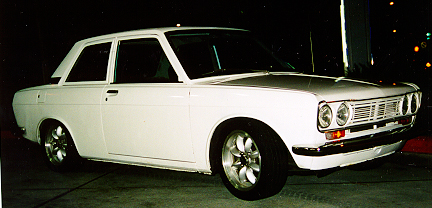 Here's an example of a CLEEAN ass 510 at the street races, owned by my friend Danny. More pics to come!
| CIPHeR.MAIN | BACK TO EVENT PICS | LINKS/PROPS |
| SIGN GUESTBOOK |
ALL original pics and content found on this site are (c) 1997, 1998 Antonio A. Ponton, esOteric productions (NO BITERS) All rights reserved. Last Updated March 7, 1998